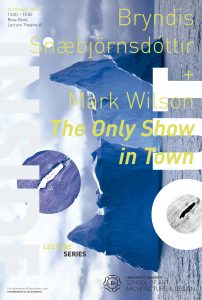 Snæbjörnsdóttir/Wilson
The Only Show in Town
Leeds Beckett talk
For the last twenty years, the collaborative artist team, Snæbjörnsdóttir/Wilson, have been practicing and producing in the field of contemporary art on an international stage with projects and exhibitions in the UK, Europe, Australia, and the USA. They have built a reputation, resonant in many fields – in contemporary art, animal studies, human geography, museology, the environmental sciences and more. In this respect, it has been their strategic intent to drive the idea that contemporary art is a significant voice, made possible by the application of unique blends of original methods and cross-disciplinary appropriation.
Snæbjörnsdóttir/Wilson's artwork is multidisciplinary in nature, most usually taking the form of installation, involving anything from sculptural interventions, found objects and materials, video, audio, drawing, photography and texts. Notwithstanding their participation in International Biennales and major gallery shows, their adherence to the significance and advantage of site-specificity have often led them strategically to exhibit in some tiny and otherwise most obscure venues.
The production of their work is unashamedly driven and facilitated by intensive research and interdisciplinary associations, because as artists they consider art to be both the most promising platform and the most likely instrument by which the fusion and mutual complication or disturbance of traditionally discrete knowledge-fields will succeed in effecting significant and increasingly urgent cultural and behavioural change.
And change is the only show in town…
So, the lecture will examine what it means in the context of crisis, (e.g. extinction, the Anthropocene), to consider and practice art as a tool of disruption and mediation, how passivity is a weapon and how complex cross-disciplinary relationships can effectively and otherwise, be productively managed.
As a consequence of their approach, through many projects, the artists have invested and directed their energies towards alliances and conversations across multiple fields in exhibitions, associated seminars and international conferences. For them, every exhibition made, is a provocation of sorts and is used to create opportunities for extending discourse, often between people who would otherwise rarely, if ever, engage. Over this time and as a consequence, they have exhibited and otherwise continue to be involved with many other internationally significant artists and theorists across the world.
Now, in 2018, they continue to develop ongoing projects in Rhode Island (at the David Winton Bell Gallery at Brown) and in Alaska (the Anchorage Museum).