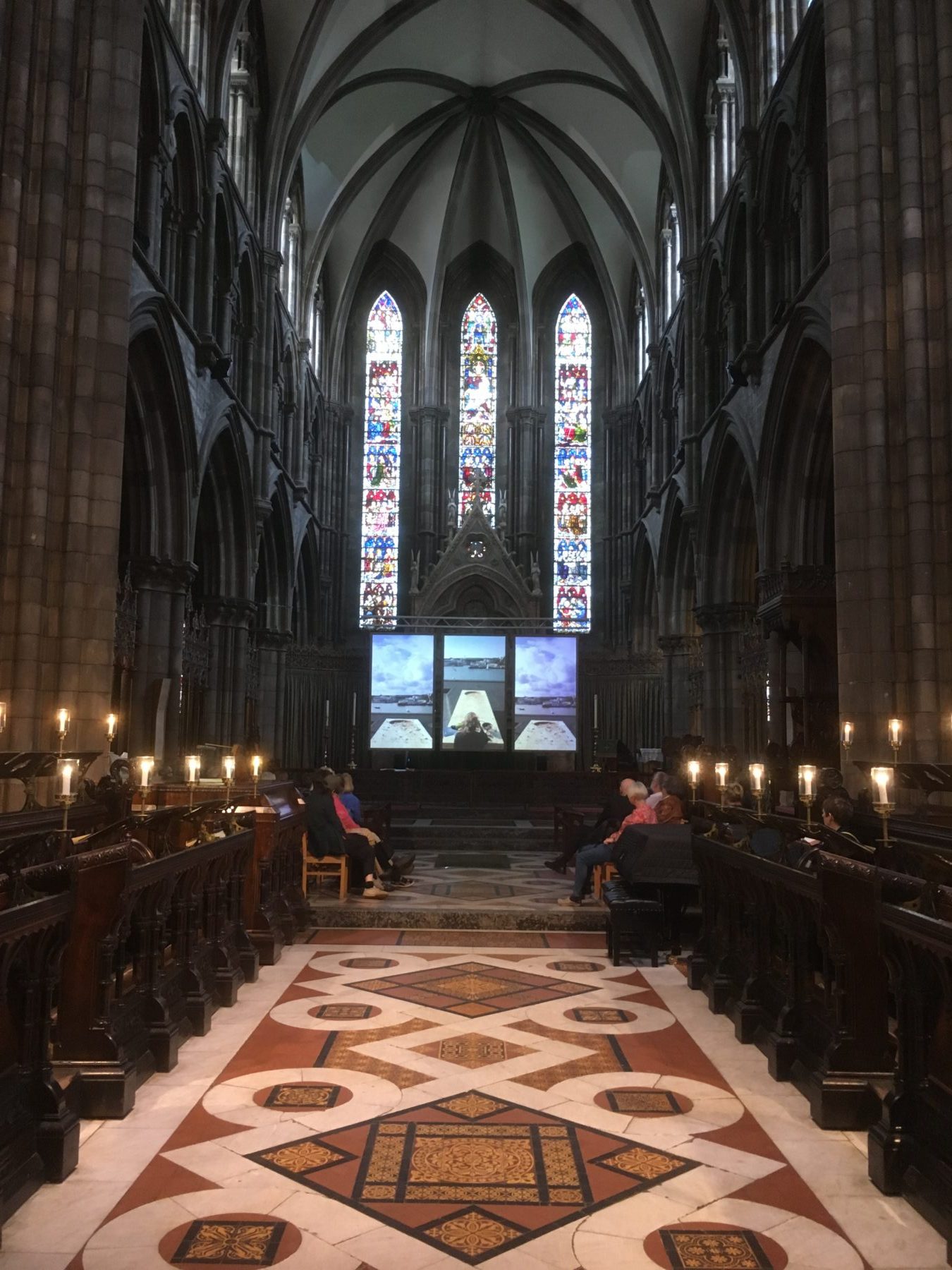 Vanishing Point: Where Species Meet (2011/19) St Mary's Episcopal Cathedral, Haymarket, Edinburgh.
Despite the original site-specific setting on the Gotheburg waterfront, our ambition has always been to show this work in an ecclesiastical context. In some small but significant way, the work can be construed to reference a well-known biblical miracle narrative in which generosity and sharing are key. But strategically, rather than situating it entirely in human terms, it carries the idea  across and between species.
Vanishing Point can be seen as a critique on the legacy of ways in which Christian values have been interpreted and together with Cartesian objectivity, placed anthropocentrism and human interests at the heart of our conceptions of the world, to the detriment of more ecological consciousness. Such viewpoints have contributed to a dislocation between human beings and the wider environment, rendering the world largely as a series of resources and sites for exploitation.
Vanishing Point was previously exhibited in Pandemonium, the Gothenburg Biennal, alongside works by Francis Alys and Ernesto Neto. In 2014, the work was shown again at the 5th Moscow Art Biennale.
Vanishing Point: Where Species Meet is a three-channel video work, originally commissioned by the Biennial curator, Sarat Maharaj for the Gothenburg Biennial (2011). The performance-based film documents a meeting between a human individual and seabirds of various species, around a custom-built table at which food is first prepared and subsequently offered and shared. Seagulls are often regarded by people as a nuisance. In Vanishing Point: Where Species Meet, Bryndís Snæbjornsdóttir and Mark Wilson invite seagulls to dinner, to 'break bread' (and fish) with them, at a point between the ground and the sky. It is an extension of hospitality and a meeting of species over food, exploring the contemporary relationship between humans and non-humans within an urban environment.
Filming took place on the roof of Roda Sten, the main Biennial building in Gothenburg, on the River Gota waterfront, along which al fresco café and restaurant tables are targeted on a regular basis by fearless gulls.