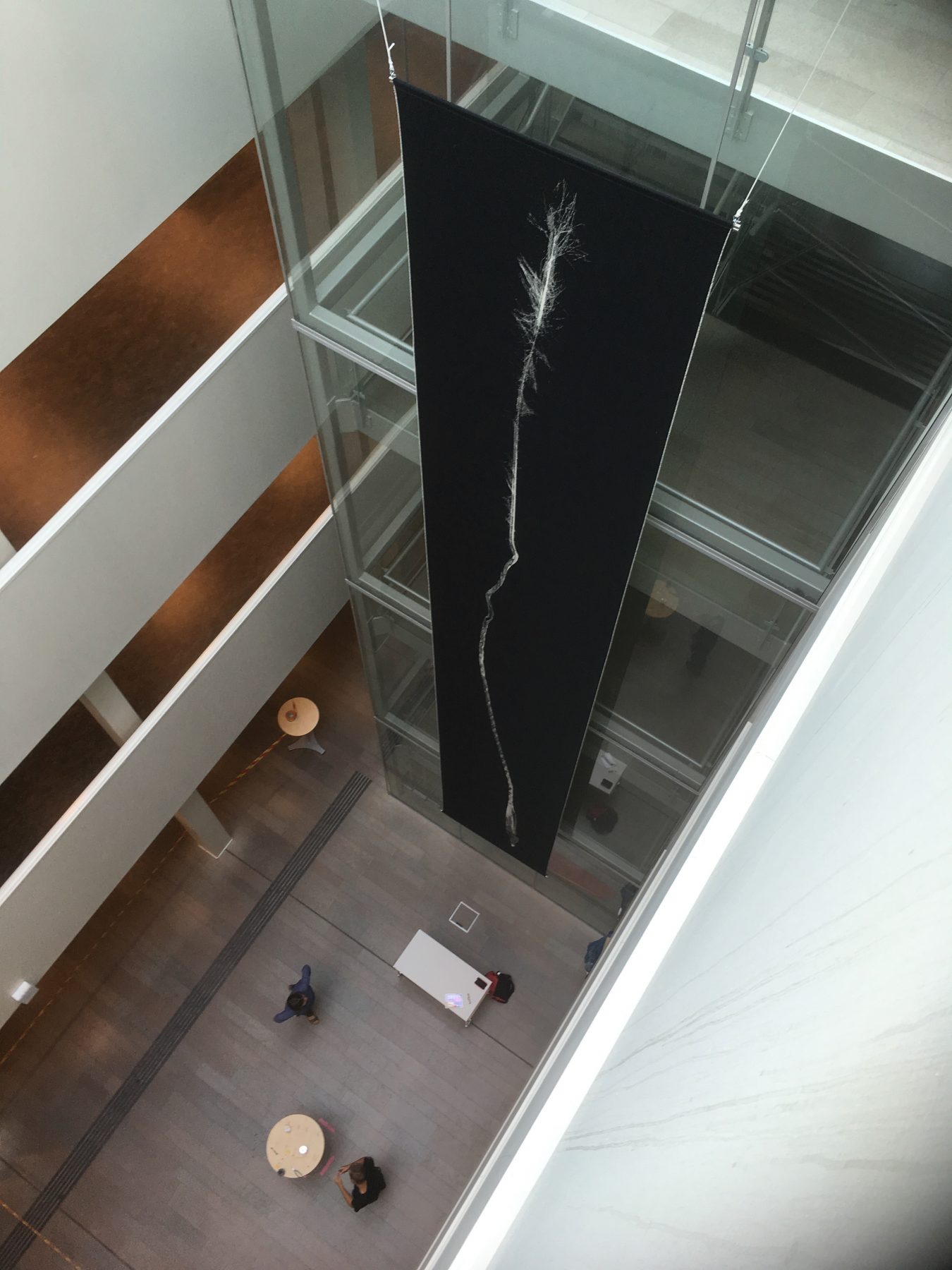 Snæbjörnsdóttir Wilson have recently installed a new work, a 14 metre tapestry, Searching for Stipa. The tapestry shows the complex structures of a grass seed Stipa pennata. During research for the project Beyond Plant Blindness, under the supervision of the artists Bryndís and Mark, a scanning electron microscope at Chalmers University of Technology was used to image the seed awn in twenty-nine highly detailed sections. The artists then meticulously assembled the scans as one image, using Photoshop software. From this single file, the tapestry was woven in wool, in Norway, by Kristina Aas.
It was installed in Hus B, Pedagogen, University of Gothenburg on August 15 2018
Contemporary humans have become an urban species. Living in megalopolitan cities reduces intimate contact with the natural world thus placing greater emphasis on ´presented nature´ settings, such as zoos, botanic gardens and natural history museums
However, previous research has demonstrated that ´plant blindness´ inhibits human perceptions of plants. In view of increasing species extinction the world can no longer afford our citizens to see ´nothing´ when they look at plants, the basis of most life on earth. The team of researchers in this project Snæbjörnsdóttir/Wilson, Dawn Sanders, Eva Nyberg, and Bente Eriksen Molau believe that conducting research in order to understand how we can move beyond plant blindness is imperative for a sustainable world
"The everyday life of a plant can appear to be static and silent to human perception. And yet, modern science tells us that plants live in complex, and often social, worlds. Removing plants from the human view makes it easier for us to exploit them but reduces our ability to see into their worlds; how might taking a different view improve our understanding and sensitivity to the lives of plants?" [1]
The artists Bryndís Snæbjörnsdóttir and Mark Wilson have examined instances of particular seeds and plants brought to Gothenburg Botanical Garden from diverse regions of the world
The fourteen photographs in the Gallery (plus that of Stipa at the Stolpboden site) are electron microscopic scans, made of seeds selected by Henrik Zetterlund, who also records his experience of their collection. How do such stories, of the environments and conditions from which these plants were taken, their perceived needs, new habitats and subsequent behaviour, unravel the simplistic dynamic of public display-for-recreation?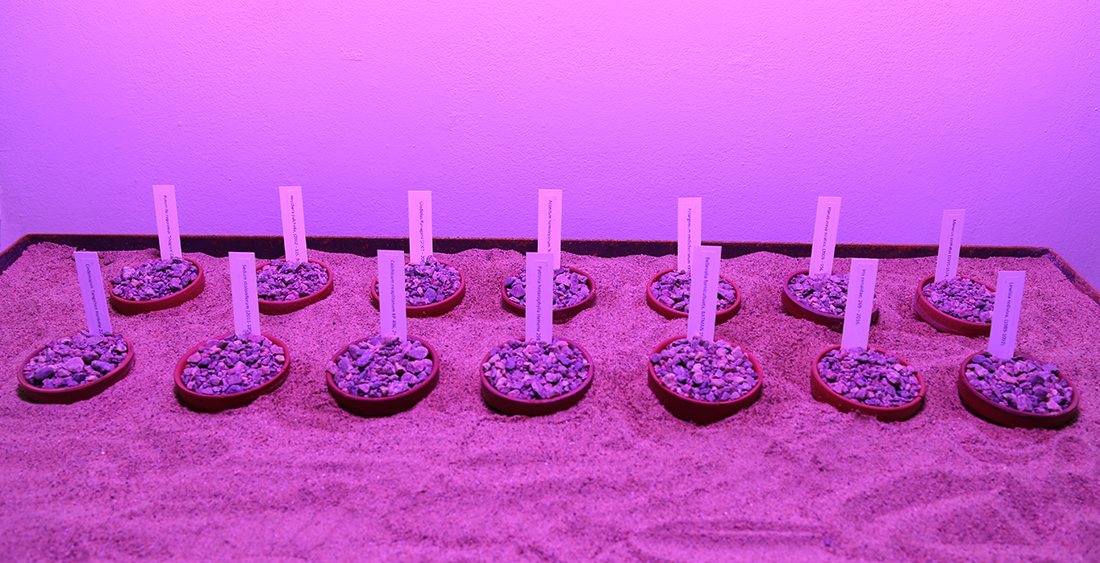 The seedlings growing under the growlight are from the very same seed batch as those in the photographs. Some are the very same seeds. Due to timing and the vulnerablility of the seeds not all of them might be in the gallery at the same time. Although we hope that further on into the summer all of them might be here, we cannot be sure. The well being of the seedlings/plants is our main concern and will determine whether or not they need different environmental conditions from those we can provide in the Gallery
These artworks are part of the cross-disciplinary research project Beyond Plant Blindness: seeing the importance of plants for a sustainable world. The project was funded by The Swedish Research Council
The artists would like to thank the many staff at Botaniska who have helped to support their project. Special thanks to Marika Irvine and Henrik Zetterlund
Beyond Plant Blindness Artworks: Seeds Flora Rilke Gallery , Searching for Stipa 1 Stolpboden and Searching for Stipa 2 Rain Shelter (Rock Garden)